Snap Off Membership Cards
Buy 250 for

$2.70

each and save

36

%
Buy 500 for

$1.60

each and save

62

%
Buy 10000 for

$1.19

each and save

72

%
Buy 50000 for

$0.69

each and save

84

%

Snap off custom printed membership cards are used by both big companies, and small businesses. They're commonly used by retail stores, gyms, supermarkets, and golf clubs. These businesses use these cards as membership cards, rewards cards, gift cards, employee discount cards, and they're even used as smaller clearance cards. Snap off cards are popularly recognized as store advantage cards. Gas stations, auto-parts stores, supermarkets, and wholesale clubs all use these snap off cards to provide their customers with special savings and advantages.
Perfect For Clubs, Associations, Hotels and restaurants, Night Clubs, Retailers, Wholesalers, VIP Members, Professional Bodies, Schools, Universities and Libraries etc.
Minimum Order: 100 units
Description
Details
Snap Off Membership Cards, Custom Printed & Promotional Options
These are small printed membership cards that include an even smaller card attached to it. The smaller part can be snapped off and put on a keychain, while the bigger part of the card can be put in a wallet. This allows your member, customers, or employees to have a membership card (etc.) with them at all times. This feature also comes in handy if the original happens to get lost. Which in return, helps stores and companies save money on replacement cards. The smaller snap off attachment provides a backup membership card.
Custom Membership Cards in a Snap!
These snap off ID cards are branded using CYMK Digital Printing (Photo Print), which means you will get a clear, vibrant picture or logo. They can be cut to virtually any size that you think would be right for your business.Our snap off cards are made from high quality plastics. They are both durable and long lasting. We can customize your order with any business name, company name, brand name, logo, or graphics that you choose. There are various colors for you to choose from, so you can create a color scheme that matches your logo or company colors. These particular snap off ID cards are very versatile because they can be cut to any size. So it's not uncommon for them to be used at hospitals, schools, or doctor offices.
Go Branded For More Business Exposure
Customizing these snap off cards with your company name or logo will give your company or brand more exposure, and somewhat of a promotional boost as well. When people wear your snap off card on their key chain, it will draw people to it. Maybe there are people that didn't realize your business offers advantage cards until they saw a snap card on a friend's key chain. People that aren't familiar with your business will be prompted to ask about it when they notice your card. Either way, customizable snap off cards will provide your business with a way to give back to customers, while giving your brand a subtle promotional boost.
We can customize virtually every aspect of these cards. In addition to customizing the color scheme, text, and fittings, you can also customize other detailed features. Your order of custom snap off cards can be made with embossed numbering, a writable signature strip, a magnetic strip, or sequential numbering. These are the features that determine whether you're ordering advantage cards, gift cards, or something else. Some of the other cosmetic options that are available include metallic looking plastic, keyring holes, RFID cards, additional snap off sections, and transparency printing.
Why Choose Us For Your Membership Cards?
We pride ourselves on providing our customers with quality services and products, at cost efficient prices. We understand that getting the most out of your money is important in today's economy, and we want to help our clients as much as we can. That's why our snap off ID cards come with a price beat guarantee. If there is another company selling these at a cheaper price, we will lower our prices to beat theirs. The quality of our products will never suffer for our affordable prices. All of our products are manufactured in our own facilities, which cuts out the middle man. That's how we're able to sell you quality products, at low prices.
We have a highly qualified team of professionals that will present a virtual sample of your order to you. You will have to approve the design before it goes into production. We don't want you to feel stuck with an order you're not happy with. We do offer rush delivery services, but please keep in mind that conditions may apply. Some of the customization options may not be available to you, and there may be additional charges. If you already know what you want and would like to know a general cost, you can ask for an online quote. You will receive a quote within 30 minutes after applying for one. If you're not sure which card will be right for your business, you can contact us and we will be able to help you create cards that compliment your business perfectly.
Available Colors
Decoration Method:
Full colour digital CMYK photo print.
Popular Addons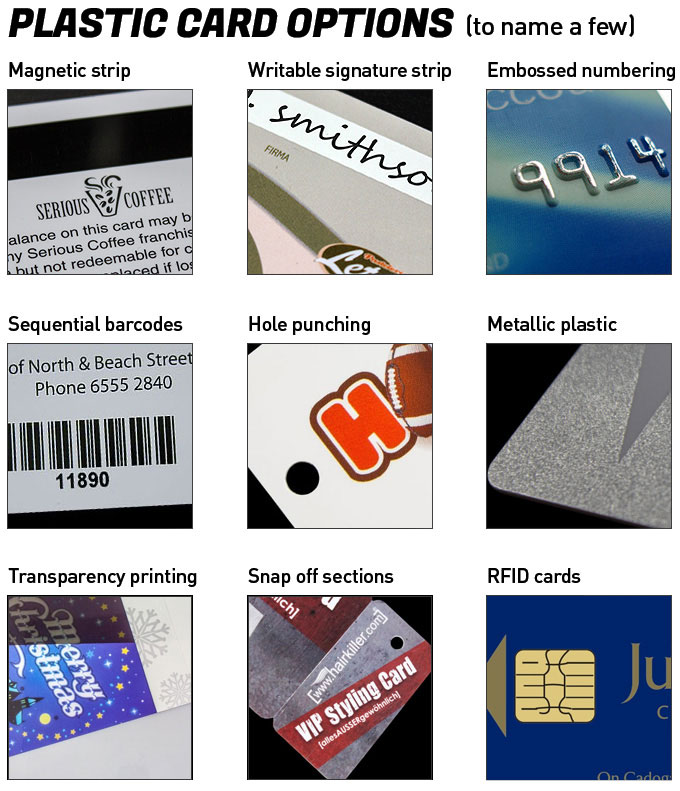 Size Information
Custom sizes are available on your request. We cut these custom membership tags to any size you require. (minimum order quantities and lead times apply)