Plastic Membership Cards
Buy 250 for

$2.20

each and save

38

%
Buy 500 for

$1.20

each and save

66

%
Buy 10000 for

$0.89

each and save

75

%
Buy 50000 for

$0.49

each and save

86

%

Our plastic membership cards are excellent promotional tools for all types of companies and businesses. These creative plastic loyalty cards will give your company or brand a promotional boost in more ways than one. They provide your business with a subtle promotional boost because they can be customized with your brand. They also provide customers, employees, and clients with an advantage or membership card, which promotes customer loyalty and word of mouth. These printed membership cards can be one of the simplest, yet effective promotional tools that your money can buy.
Perfect for Clubs, Associations, Hotels and restaurants, Night Clubs, Retailers, Wholesalers, VIP Members, Professional Bodies, Schools, Universities and Libraries etc.
Minimum Order: 50 units
Description
Details
Get Plastic Membership Cards With Your Company Info
These plastic membership cards are used as gift cards, plastic loyalty cards, or VIP member cards by various different types of businesses and companies. Some of the businesses that ideally use these cards include restaurants, retail stores, night/day clubs, hotels, gyms, gas stations, and convenient stores. They are also commonly used by VIP clients or customers, schools, and much more. Loyalty cards can add a certain sense of professionalism, unity, and flare to any business, which attracts more clients. People are more likely to buy products or services from a business that values their customers, and offers something in return for consumer loyalty.
Premium materials on all plastic loyalty cards
Our cards are made from quality plastic, and we use colours that are both vibrant and long lasting. We can print any graphics, text, and/or gradients on the card that you request, allowing you to fully tailor the cards to match your business logo. A new, creative option has recently been added to our membership cards. Now you can choose to have your order of loyalty cards cut into any dye cut shape, moulding, or size that you'd like. Get creative with your membership/rewards cards! We use CMYK Digital printing to imprint the text or graphics of your choice onto the card, to ensure quality imaging.
Custom design service, 100% on the house
We strive to make your experience with us as simple as possible, while helping you in any way that we can. If you're not quite sure what type of printed membership cards will be right for your business, you can contact our customer service team, and they can help you create a card that will be beneficial to your company. We also offer online quotes for people that already have an idea of what they will want. Once you apply, a quote will be sent to you within 30 minutes. When you order your plastic membership cards with us you'll be getting quality products, with outstanding customer service.
We can't be beaten on price, quality or turnaround time in Canada
Nothing is more important than customer satisfaction to us. We understand that without our loyal customers, there would be no us. That's why we provide our customers with the lowest prices around. How do we know that we have the lowest possible prices? Because if you find these loyalty cards at a lower price somewhere else, we will drop our prices to beat our competitors. So no matter what, our customers will always enjoy quality services and products, at the lowest prices available. That is our Price Beat Guarantee.
In addition to our low prices, we also have a talented team of designers that will create a virtual sample of your order. The virtual sample will be sent to you for approval before your order starts to go into production. If you aren't satisfied with the final product, you won't have to feel stuck with an order that has already been made, and paid for. If you want or need membership cards and you're pressed for time, we can provide rush delivery services to ensure you get what you need, when you need it. However, conditions may apply with rush delivery services. Your customization options may be limited, and additional fees may apply. Be sure to speak to customer service representative about your options if you're having your order rush delivered.
Available Colors
Decoration Method
Full colour digital CMYK photo print
Popular Addons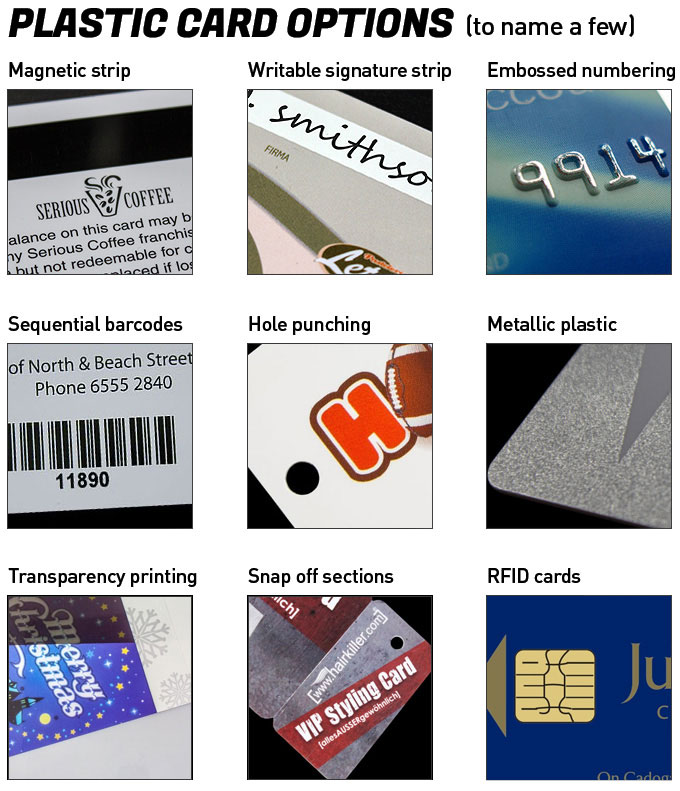 Size Information
Standard Business Card Size: 3.5"W x 2"H; Custom Sizes Available