In Stock PVC Card Holders
Competitive Pricing

We have the best prices in Canada. Request your 100% free quote today!

Free Artwork Services

Why do it yourself? Leave the work to us and get free mockups before ordering!

Fast Turnaround

Our speedy production helps get your order to you faster! Request rush service to get it ASAP!
Available in 5 standard sizes, but we can also manufacture them in any size you require
Either use these card holders with a lanyard or hang them on your belt
Keep your ID cards safe and secure so you need not worry about losing them
A highly practical item designed to protect your personnel's ID from everyday wear and tear, and exposure to the elements, these soft PVC ID card pouches are a great purchase for any company. Simply place your identification inside and clip it to your lanyard for easy no fuss use. We offer highly competitive pricing and a free artwork service – making your essential purchase even more affordable and accessible no matter what the budget. Contact us today to get started!
In Stock PVC Card Holders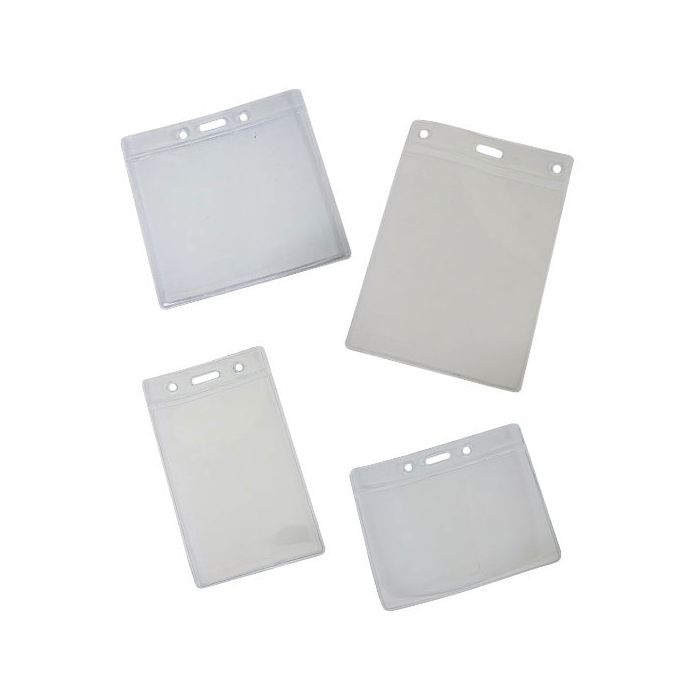 Providing Sensible ID Security Solutions On A Budget!
Soft ID wallets are flexible and affordable solutions to provide staff at events and conferences. They can also be provided to guests and attendees for holding passes, tickets and other requirements for entry into your event. Our clear ID pouches come in several different shapes and sizes, ready to be used with ID card loops and other attachments so that they can always be carried easily. Clear ID wallets are ideal for helping to maintain security at any event or in any building or work environment. They make it easy for people to remember their ID and to easily display them when needed.
Our soft ID pouches are ideal for ordering in bulk so that you can provide everyone at your events with a wallet for their ID. We have both in-stock products with low minimum orders that you can order for overnight delivery and products that you can order specially if you're looking for something different. The range of wallets on offer includes different sizes with landscape and portrait options. Some of our wallets can hold multiple cards so that staff can show several different forms of ID or credentials at the same time.
Keeping your event secure is essential, and having ID cards, tickets and passes is often the best way to do it. Using these methods, only people who have permission to enter different areas may do so. You might control who gets into the event, who can come into VIP areas and who can enter areas where only staff may be allowed. Having clear plastic ID wallets means that staff members can easily have access to their ID when necessary. They can show their passes whenever they need to when entering and exiting different areas, without having to fumble around with any cards or taking things out of bags and pockets. They can clearly display their ID on their clothing or wherever works best.
Consider the needs of your staff for your event when choosing which products are right for you. Think about both the size of the soft wallets that you want and the attachments that your staff can use. The right attachment can make it easier for your staff to show their ID in different situations. They might want to clip it to their pocket or hang it from their neck so that it's within reach whenever they need it.
Choose from our selection of clear ID wallets, made from PVC to high standards. You can combine our clear wallets with our other products, such as lanyards, crocodile clips and other attachments. When ordering large quantities, you can get excellent discounts to save even more money on our affordable products. Select the ID wallets that meet your requirements from our choice of styles and sizes, and you can make sure that any event or conference that you run has all the things that you need.
Send an enquiry about our ID pouches to get a quote for your order, or get in touch directly by phone or email!
Standard Sizes Available
Portrait Pouch Size 60mm x 90mm (recommended standard business card size 54mm x 85mm)
Landscape Pouch Size 90mm x 60mm (recommended standard business card size 85mm x 54mm)
Portrait Pouch Size 82mm x 105mm (recommended insert size 75mm x 100mm)
Landscape Pouch Size 105mm x 90mm (recommended insert size 100mm x 80mm)
Portrait Pouch Size 105mm x 150mm (recommended A6 card size 100mm x 145mm)