Custom Shape Plastic Cards

Our plastic card printing service is second to none! Choose from a unique range. This extremely effective way to help promote your business and attract new clients shouldn't be overlooked! Plastic cards and their customization features make them excellent promotional tools. They're commonly used as rewards cards, membership cards, gift cards, store cards, and more. The usage capabilities of these PVC cards will give your company, business, or brand a promotional boost as well. The feature that makes these particular custom plastic cards unique is that they can be cut into any shape you wish, as opposed to more traditional square shaped cards.
Perfect for Clubs, Associations, Hotels and restaurants, Night Clubs, Retailers, Wholesalers, VIP Members, Professional Bodies, Schools, Universities and Libraries etc.
Pricing is size dependent
Minimum Order: 250 units
Description
Details
Use us for your plastic card printing needs
They can be dye cut into any customized shape you'd like, and we use CMYK Digital Printing to imprint your image and/or text onto the custom VIP cards. For example, if you run a children's party planning business, you can get creative and have the cards cut into superhero or princess shapes. We also provide additional features that include sequential numbering, embossed cards, barcodes, and magnetic strips. You can also choose to have your cards made with metallic plastic, hole punching (to hang on a keychain), a writable signature strip, RFID cards, smaller snap off sections, and transparency printing. These membership cards offer effective promotional business strategies at an extremely cost effective price.
What can we use these cards for?
These cards are commonly used as company ID cards, business and in-store gift cards, membership cards, company security passes, and more. Some of the businesses that commonly use these cards include, but are not limited to; Clubs, Associations, Hotels and restaurants, Night Clubs, Retailers, Wholesalers, VIP Members, Professional gyms, Schools, Universities and Libraries, etc. You can have a company name, phone number, and/or logo printed on each card in your order, and there are various colors for you to choose from. So you can choose the color scheme that best fits your business.
When you hand your clients and/or customers these custom VIP cards, they will get the feeling that you run a trustworthy and professional company that appreciates their business. A custom shaped card will also help you generate new business, by attracting new customers with a uniquely shaped card. We only use quality materials when manufacturing our products. So you will never have to worry about your order of cards bending or breaking before you get use out of them. If you intend your order of cards to be gift cards or company security passes, you won't have to worry about the numbers or sequence rubbing off of the card. Spending needless money on replacing worn out cards will never be an issue.
We are on standby to serve you
Customer satisfaction is our number one priority. We want to make sure all of our customers are getting quality services and products, at the lowest possible prices. That's why we have our Price Beat Guarantee. If you find these cards at a lower price somewhere else, we will drop our prices to beat theirs. We understand that sometimes, things look better in your head, then they look in person. Which is why we have a talented team of designers that will create a virtual sample of what your custom VIP cards will look like, before they go into production. They will send you the sample for approval. If you are not satisfied with the way your order came out, you can simply change it. You are guaranteed to be completely satisfied when your custom shape business cards arrive at your door.
There is also a rush delivery service that is available for anyone that is in a rush to receive their order of custom shaped plastic cards. However, it's important to keep in mind that conditions may apply when choosing to have your order rushed. You may not have as many customization options due to a tight time frame, and additional fees may apply.
Knowing exactly what kind of cards will be a good fit for your business can be a bit challenging. If you're not sure where to start, you can contact us and we will be happy to help you create a card for your business. If you have a good idea of what you'd like, we can provide you with an online quote within 30 minutes. There is also online instant messaging that is available in case you have any questions while you're browsing through our products.
Available Colors
Full colour digital CMYK photo print
Popular Addons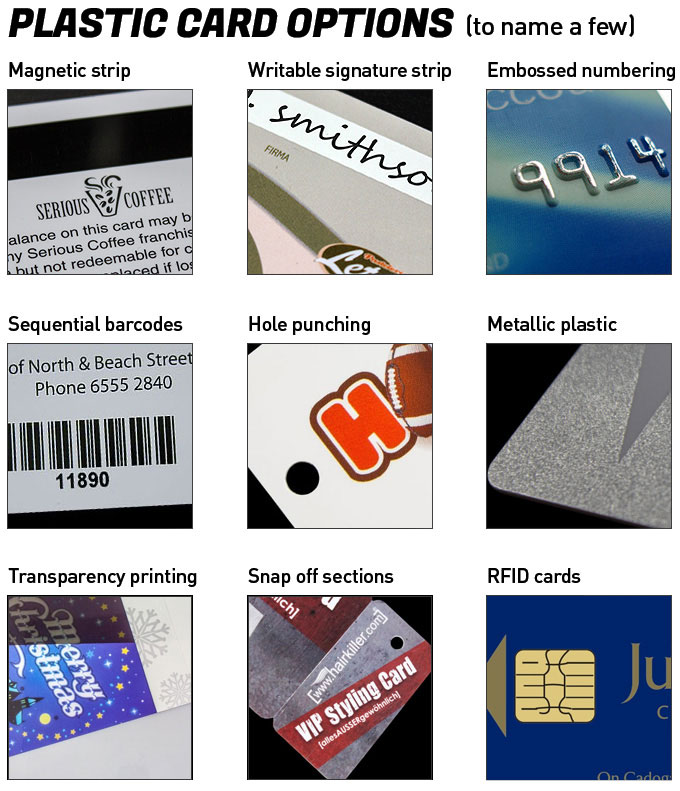 Size Information
Full custom cut shape to meet your requirements