Printed membership cards
Printed membership cards are excellent promotional items for all types of companies and businesses. These creative loyalty cards will give your company or brand a promotional boost in more ways than one. Not only can they be customized with your company name, but they can also be given to employees, customers and clients as loyalty cards and/or member's only cards, etc. They can even be used as company or store gift cards. Gift cards allow you to give your clients and/or customers a gift that holds value, in addition to being customized with your company name or brand. These cards are some of the most simple, yet effective promotional tools that your money can buy.
Decoration method: CMYK Digital printing (photo print)
We can custom cut these Plastic cards into any shape, size or moulding. And then print colourful gradients and graphics onto the plastic printed cards along with barcodes, sequential numbering and magnetic chip fitment.
Minimum Order: 250 units
Perfect for: Clubs, Associations, Hotels and restaurants, Night Clubs, Retailers, Wholesalers, VIP Members, Professional Bodies, Schools, Universities and Libraries etc.
Details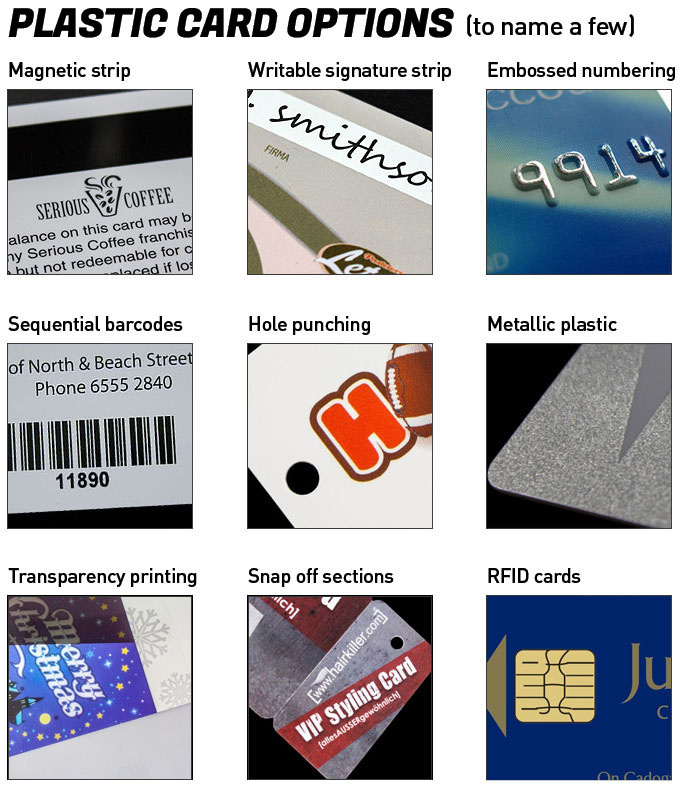 Membership cards for businesses from small to enterprise
These customizable loyalty cards are used as gift cards, reward cards, or VIP member cards by various different types of businesses and companies. Some of the places that ideally use these cards include restaurants, retail stores, night clubs and day clubs, hotels, gyms, gas stations and convenient stores, VIP clients or customers, schools, and much more. Loyalty cards can add a certain sense of professionalism, unity, and flare to any business, which attracts and entices more clients.
Premium materials on all plastic cards
Our cards are made from quality plastic materials, and we use colors that are both vibrant and long lasting. We can print any graphics, text, and/or gradients on the card that you request, allowing you to fully customize, and tailor the cards to match your business perfectly. A new, creative option has recently been added to our cards. Now you can choose to have your order of loyalty cards cut into any dye cut shape, molding, or size that you'd like. Get creative with your membership/rewards cards! We use CMYK Digital printing to imprint the text or graphics of your choice onto the card, to ensure quality imaging. Depending on your intended use for your loyalty cards, we can install either barcodes, sequential numbering and/or magnetic chip fitments in the cards as well.
Custom design service, 100% on the house
Like most of our products, these cards can be customized with the company name, business name, phone number, graphic, and/or logo of your choice. You can also customize the color scheme and shape as well. However, those aren't the only things that can be customized on your personalized order of loyalty cards. Some of the additional customizable options that we offer include embossed numbering, a signature writing area, magnetic strips, sequential barcodes, punched out holes (for hanging on a key ring), metallic looking plastic, smaller additional snap off cards, RFID cards, and transparent printing.
Nothing is more important than customer satisfaction to us, not even money. We understand that without our loyal customers, there would be no us. We provide our customers with the lowest prices around. How do we know that we have the lowest possible prices? Because if you find these loyalty cards at a lower price somewhere else, we will drop our prices to beat the competitors. So no matter what, our customers will always enjoy quality services and products, at the lowest price available. That is our Price Beat Guarantee.
In addition to our low prices, we also have a talented team of designers that will create a virtual sample of your order so you can look it over, before your order is shipped out. We want to make sure you know exactly what you are getting, and you are completely satisfied with your choices. If you want or need membership cards and you are pressed for time, we can provide rush delivery services to ensure you get what you need, when you need it (conditions may apply).