Competitive Pricing

We have the best prices in Canada. Request your 100% free quote today!

Free Artwork Services

Why do it yourself? Leave the work to us and get free mockups before ordering!

Fast Turnaround

Our speedy production helps get your order to you faster! Request rush service to get it ASAP!
Material Widths: 10mm (3/8in), 15mm (5/8in), 20mm (3/4in), 25mm (1in)
Material Length: Standard 900mm (36in), custom lengths available
Included Fittings: 2 safety release clips and your choice of... dog clip, metal/plastic crocodile clip (swivel or non-swivel), trigger clip, or split ring
Printing: Screen print in any pantone colour, up to 5 colours per design (for designs more than 3 colours, we recommend our dye sublimated option)
Fit with up to 6 safety breaks on a standard 900mm length lanyard
Pricing listed includes up to 3 safety breaks at no additional cost!
Multi-Safety lanyards are ideal for use in hospitals or any other situation where risk of harm must be minimized, we also offer adjustable lanyards, and high-viz lanyards.
The Benefits of Safety Breaks in Lanyards
We have all caught a sleeve or pants leg while going about our daily tasks, but when something is worn around the neck, it can be much more serious. Customized safety lanyards offer a way to add peace of mind and safety to everyday ID essentials. Our standard promotional lanyards come with a single safety break included, but we also offer multi-safety lanyards available here! It's also worth noting that in some cases, selecting this style of lanyard for your business needs can be a legal requirement as we will now delve into below!
Creating Legally Compliant Custom Safety Lanyards in Canada
Many work environments, from schools to warehouses, require custom branded lanyards to have at least one safety break and this means it is mandatory. Creating a lanyard that, if grabbed or caught, has a better chance of breaking away and lessening injury or danger can be vital and imprinted safety lanyards offer a convenient solution.
How Do Branded Safety Lanyards Work?
A lanyard without a break can cause injury or worse when caught, but customized lanyards with safety breaks offer a helpful way to counter this. One safety break is better than none, but special safety breakaway lanyards are even better. These products are made with a clip on either side that can break when force is applied, providing better safety to the wearer. The breakaway clips allow the user to quickly release the lanyard from around their neck in an emergency. With so many careers like construction and public safety requiring people to wear ID but also mixing in heavy machinery or physical contact – these lanyards offer a solution that could make all the difference in the world to the wearer.
Nursing Lanyards in Canada & Safety Precautions
We might think of machinery and heavy-duty construction sites when we think of getting lanyards caught, but another career area at risk is, of course, medical professionals. From physical altercations from agitated patients to getting snagged during fast-paced situations on crowded medical equipment – nurses and medical staff need a lanyard with a difference. Hospital staff lanyards with safety breaks provide better safety solutions for staff of all levels while giving them a convenient hands-free way to display essential identification at work.
What Customization Is Available for My Safety Lanyards?
Promotional safety break lanyards might be made with a serious purpose in mind – but that doesn't mean you can't get inventive and funky with your design! Check out our awesome range of options to help you create the practical yet stylish multi-break lanyard of your design dreams.
Up to 5 Printed Colours for Customization: That's a lot of colour creativity at your fingertips! As a general rule of thumb, we recommend three colours max for screen print or to switch to our incredible dye-sublimated options to help you save money!
Choose From Standard & Specialist Fittings: Dog clips, Croc clips, Split Rings, the list just keeps on going. With so many fitting options available, finding the right attachment for your needs could be a one-stop visit with us! Not quite sure what you need or can't tell a D ring from a 'G' clip? Don't worry, you aren't alone and that's why we are here. Just let us know what you want to attach to your lanyards in Canada and we can help find what you need.
Stock and Custom Colour Options: Nothing draws attention quite like a vibrant splash of colour, but whether you need subtle or bold for your personalized lanyards, we have you covered. Browse our selection of stock colour options for the most popular and standard colours, or contact us about Pantone matching and creating the specific colour you have in mind.
Select the Width & Length For You: Standard sized lanyards are always available, but what about if you need something different? Don't worry – we won't leave you hanging for choice! Our lanyards with logos come in 10mm, 15mm, 20mm and 25mm width options. The standard length is 900mm, but you can also create your preferred length by contacting us with your bespoke needs.
Commonly Asked Questions for Breakaway Lanyards
These lanyards might bring up different questions than their standard counterparts with our browsers and shoppers – so we have done our best to pinpoint and answer some of the more frequently asked (but no less valid) questions.
How Many Safety Breaks Can My Printed Lanyards Have? You can have up to 6 safety breaks on a standard 900mm length lanyard. This gives multiple breakaway sections and provides frequent breakpoints between fabric sections. How many you decide on depends on your personal needs and intentions – but two breaks minimum in the customized lanyard are required to classify it as a safety lanyard.
Will Additional Safety Break Make My Lanyard Very Heavy? Surprisingly, no! The clips are constructed from lightweight yet durable material, and although the weight may be slightly different from standard lanyards, it shouldn't affect the wearer or be burdensome throughout the day.
Will My Design Be Affected? More breaks will mean a slightly different art template, but a repeated design or message or the "less print is more" style of custom branding offers a great way to counter this potential drawback. Our art team are experienced in multi-break promotional lanyard creation and can help you with your design questions!
Not seeing the question you had in mind or ready to get started? Get in touch! No inquiry for design or production is too small or irrelevant and we are ready to help get your customizable multi-safety lanyards started.
All of our printed multi-safety lanyards also include up to 3 safety breaks (Lan05) plus a standard clip at no extra charge. Default safety break placement is distributed evenly across the lanyard length, but we can adjust placement upon request. From the options below, just let us know which fitting(s) you would like in the notes section of our quote form.
Standard Fittings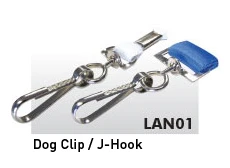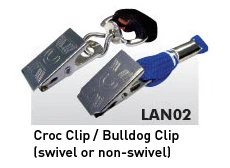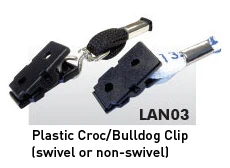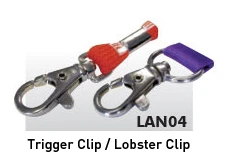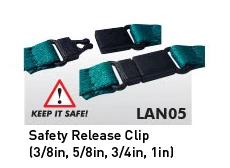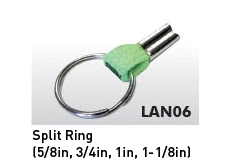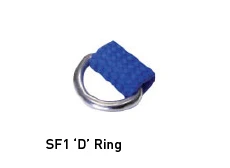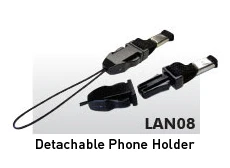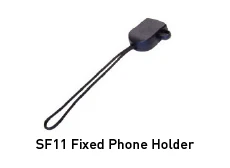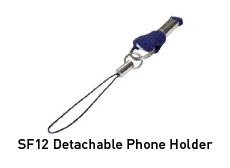 Upgrade Fittings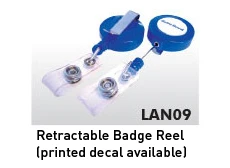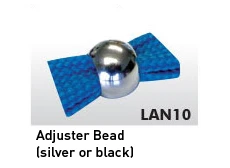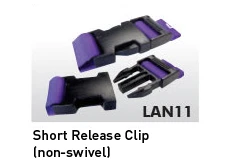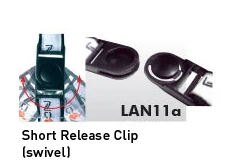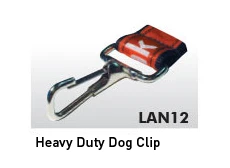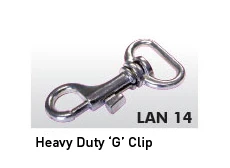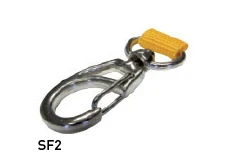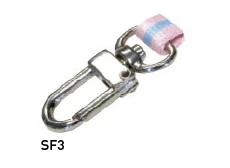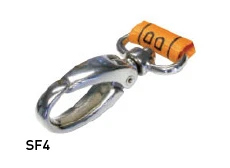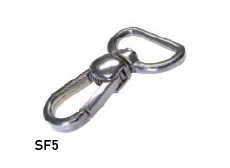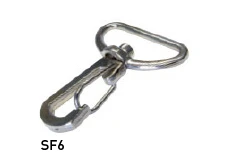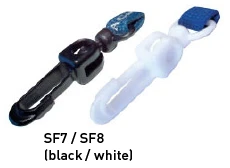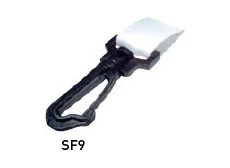 Material Widths Available

Standard Length
900mm before being sewn. Custom lengths available.
In Stock Material Colours
Just choose from the options below and let us know which you would like in the notes section of our quote form.




















Please NOTE! Other material colours are available. However, a pantone dying fee may apply.
Additional Print & Material Colours
Browse our pantone chart for a full range of custom dyed pantone material and print colours.

Popular addons and extras
Lanyards are not just for promotional purpose they serve to secure and protect your restricted areas and VIP areas. The below items are all designed to attach to our full range of lanyards. These identification carrying solutions and printed ID options are perfect for conferences and events where security is critical.