Landscape Edged ID Holder
Competitive Pricing

We have the best prices in Canada. Request your 100% free quote today!

Free Artwork Services

Why do it yourself? Leave the work to us and get free mockups before ordering!

Fast Turnaround

Our speedy production helps get your order to you faster! Request rush service to get it ASAP!
Custom Lanyards Canada's landscape edged ID holders offer a great solution to the need for visible ID at both the workplace and event outings. Sturdy, long lasting and highly affordable – identifying your staff has never been easier, allowing you and your company to focus on the importance of growth and development. A professional look at an affordable price, what could be better? Contact us today for a free quote and artwork mock up today!
Landscape Edged ID Holder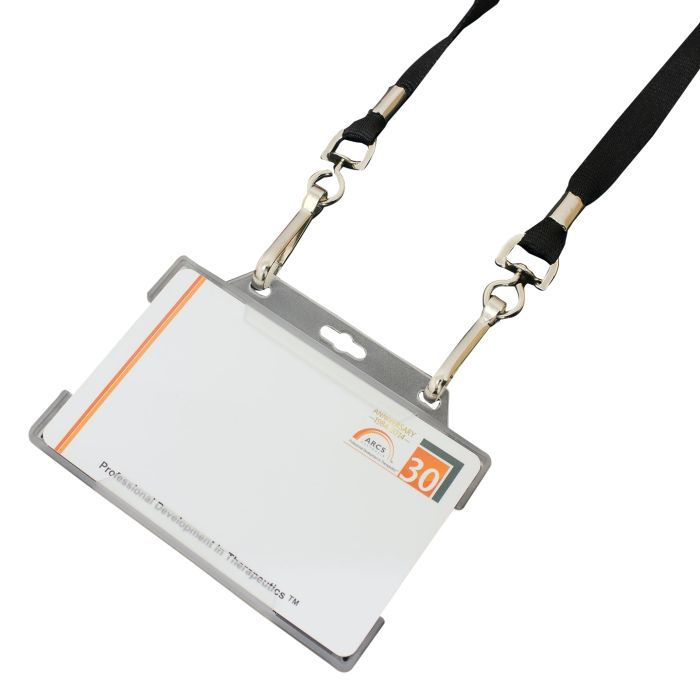 Keep Your ID Secure, Visible & Easily Accessible
Most badge holders these days have slip-through slots in the plastic to string a neck lanyard through rather than just a pin or clip. This makes wearing the badge more convenient as well as saving damage to clothing. A rigid plastic ID badge holder protects the card from bending, moisture and other damage, or wearing out quickly. This holder is large enough to allow for clear display of the full badge so that any security checker can read all the information and see the ID photo in a glance.
In many offices and venues, employees and attendees must carry some type of ID badge on them at all times. The employee access key card is standard issue in many offices, combining the functions of an ID card and an electronic key pass for secure areas. Employees must have their key card on them at all times and take care not to lose it. Also, since office managers in many companies require ID to be displayed, the key card can be worn as a badge, which is also a good way to protect it from being lost.
Landscape edged ID holders are ideal for security passes used at conventions, seminars, corporate conferences and planning events. They allow for ID badges to be displayed for the convenience of monitoring personnel as well as guests. Our ID holders are the preferred method for carrying ID and security cards. All staff should be issued an ID holder with credentials inserted, to enable them to access secure zones or VIP areas. ID holders with lanyards are one of the most cost-effective items to give out, especially with custom printed lanyards, which can help spread your business to a large audience. Depending on your promotion, there are various ways you could maximize exposure. Inquire today and order your landscape edged ID holders now!
Recommended Lanyard Fittings
Twin lan01 or lan04 fittings, or single lan02 croc clip fitting
Suited Card Size
88 x 54mm standard business card or credit card. Hangs as portrait orientation.
Colours available
Clear only, polished front with frosted reverse.