Competitive Pricing

We have the best prices in Canada. Request your 100% free quote today!

Free Artwork Services

Why do it yourself? Leave the work to us and get free mockups before ordering!

Fast Turnaround

Our speedy production helps get your order to you faster! Request rush service to get it ASAP!
Always have easy access to your ID, membership or security clearance by attaching it your arm in a protective PVC holder
Colours: Clear plastic card holder with black elastic strap
Dimensions: Portrait to fit a 90mm x 60mm insert, landscape to fit a 60mm x 90mm insert, portrait to fit a 100mm x 80mm insert, landscape to fit a 80mm x 100mm insert, portrait to fit a 148mm x 105mm insert, square to fit a 100mm x 100mm insert
A Convenient Carrying Solution That's Easily Accessible
Armband ID holders are unique, convenient, and they make great promotional gifts for customers, clients, employees, and staff. They're ID holders that come attached to a strap that fits comfortably on the arm of the user. The strap is durable as well as comfortable, and the ID holder is made of heavy duty PVC material. The PVC material allows the holder and strap to conform to you, and sit comfortably on your arm. The colour of the strap is black, and the actual ID holder is transparent and clear in colour. Although we only have certain sizes kept in stock, you can contact us and request different sized armbands that will fit your employees better.
These armband ID straps are perfect for work environments where lanyards aren't a good fit, such as ambulance services, construction sites, and security guards, etc. However, they're also occasionally used by businesses and corporate companies. Although armband ID straps are traditionally used for employees and staff, they're also known to be given out as small promotional gifts. That's because an armband strap is a gift that they can be used at work, as well as recreational. For example, a lot of people carry their ID cards in an armband when they're jogging, working out, going to a casino, and more. They can be used to hold ID cards, badges, credit cards, money, and more.
Order Armband ID Straps With Custom Lanyards Canada
When you're placing your order it is imperative that you take the thickness of the ID that you will be inserting into the holder into consideration. It's important that the armband ID holders that you order are the correct size. Otherwise, your employees won't be able to use them, and you will end up needlessly wasting money. You should allow 1-2mm more on each side to compensate for thicker ID's, booklets, or badges.
The arm strap ID holders are extremely durable and cost efficient. They will always stay in place, even on days that are more hectic than usual, and they offer a convenient alternative to lanyards. Although lanyards can be a good fit for certain situations, the armband straps are less likely to get lost. Your employees will never have to worry about them sliding off or getting caught in something. Armbands are also less likely to be taken off during a break and accidentally forgotten about. The straps fit securely around the arm, but are comfortable enough to wear all day without circulation issues. These armbands allow regulation work IDs to be clearly visible, but they are also protected behind the plastic holder. So if it starts to rain the ID card will stay dry and undamaged.
Customer satisfaction is our number one priority. We want to make sure that all of our clients are 100% satisfied with our products, services, and our prices. We also have a highly qualified team of designers that will create a virtual sample of your order and send it to you for approval, before your order is shipped out.
Please keep in mind, if you choose to have your armband ID holders rush delivered to you, conditions will apply. Your customization options may be limited, and additional fees may apply as well. If you're having trouble judging what size holders will be a good fit for your company cards, you can contact our customer service team. We will be happy to help you figure out the right fit for your company cards. We also offer free online quotes.
Standard Sizes Available
Portrait Pouch Size 60mm x 90mm (recommended standard business card size 54mm x 85mm)
Landscape Pouch Size 90mm x 60mm (recommended standard business card size 85mm x 54mm)
Portrait Pouch Size 82mm x 105mm (recommended insert size 75mm x 100mm)
Landscape Pouch Size 105mm x 90mm (recommended insert size 100mm x 80mm)
Portrait Pouch Size 105mm x 150mm (recommended A6 card size 100mm x 145mm)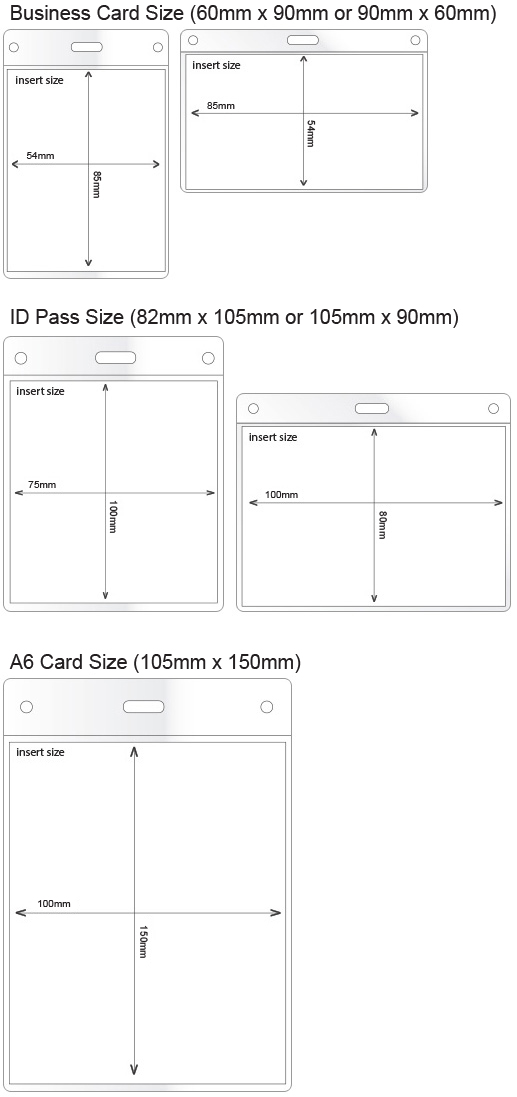 Standard Colours
Clear plastic holder with black strap