Competitive Pricing

We have the best prices in Canada. Request your 100% free quote today!

Free Artwork Services

Why do it yourself? Leave the work to us and get free mockups before ordering!

Fast Turnaround

Our speedy production helps get your order to you faster! Request rush service to get it ASAP!
Material Widths: 10mm (3/8in), 15mm (5/8in), 20mm (3/4in), 25mm (1in)
Material Length: Standard 450mm (17-3/4in), custom lengths available
Included Fittings: Your choice of... dog clip, metal/plastic crocodile clip (swivel or non-swivel), trigger clip, or split ring
Printing: Screen print in any pantone colour, up to 5 colours per design (for designs more than 3 colours, we recommend the dye sublimated print method)
Wrist strap lanyards can be used for almost anything that a regular lanyard can be used for, the difference being that items are secured more closely to the wearer's body. This feature makes them perfect for casual running groups or registered marathon runners who need to carry keys or ID.
Designed With Both Movement & Style In Mind
Wrist strap lanyards are also becoming popular among people in the music and/or concert industry. Music concerts usually involve a considerable amount of physical movement, which also includes dancing. So a wrist lanyard is much more feasible because it doesn't get in the way as much. There are also a lot of other businesses and companies that prefer a lanyard that goes around their employees' wrist, rather than a lanyard that goes around their neck.
High end corporate companies often need their employees to carry company ID's or security keys. However, the lanyard hanging around their neck doesn't usually compliment corporate attire. That's why a lot of corporate companies would rather stock wrist strap lanyards, over anything else. If your employees work in a building that requires them to swipe a security pass on a daily basis, a wrist strap may be the more convenient choice. If your employees have to wear their security pass around their neck they will have to constantly bend down to swipe it. So wearing them around their wrist is a bit more practical, in more ways than one.
Wrist lanyards are also known as short lanyards, and they are great promotional items because they're completely customizable. You can have your company name, brand name, or logo imprinted on each lanyard in your order. These wrist lanyards are made from polyester material, and they're available in up to 4 pantone colours. They come with a standard J hook fitting, but there is a wide range of other fittings for you to choose from. We can also match our polyester lanyards to almost any colour, so you will be able to use the standard branding colours associated with your business. The wrist lanyards are very stylish, so they can be used by clients, employees, event staff, and even yourself.
All of our lanyards are made with quality materials to ensure that they're both vibrant, and durable. Although we use quality materials for our products, we also want to make sure our customers are getting the best prices around. We have a team of designers that will create a virtual sample of what your order will look like. You will have the ability to either approve or deny the design before the order goes into production. This will help to ensure that you'll be happy with your order 100 percent of the time.
Fittings Guide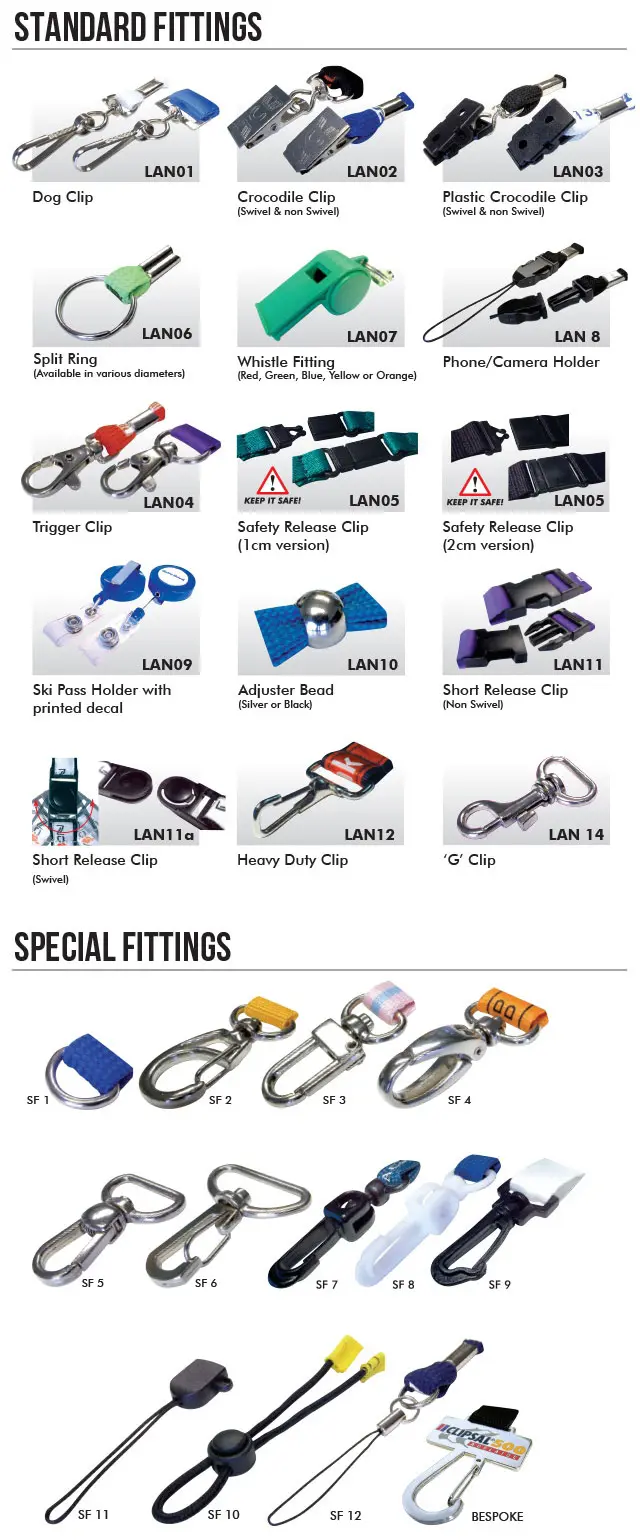 Material Widths Available

Standard Length
450mm before being sewn. Custom lengths available.