Colour Closed Face Card Holder
Competitive Pricing

We have the best prices in Canada. Request your 100% free quote today!

Free Artwork Services

Why do it yourself? Leave the work to us and get free mockups before ordering!

Fast Turnaround

Our speedy production helps get your order to you faster! Request rush service to get it ASAP!
Our colour coded ID holders are translucent and can often be found on the end of a lanyard, securing an employee ID card. They're commonly given to security team members and staff that are required to carry a company ID or security card on them at all times. Being colour matched can help your speed up security checkpoints as people can be assigned a certain colour based on their access level. And safe from damages. The same types of businesses that traditionally give lanyards to their employees, use rigid closed face holders like these.
Colour Closed Face Card Holder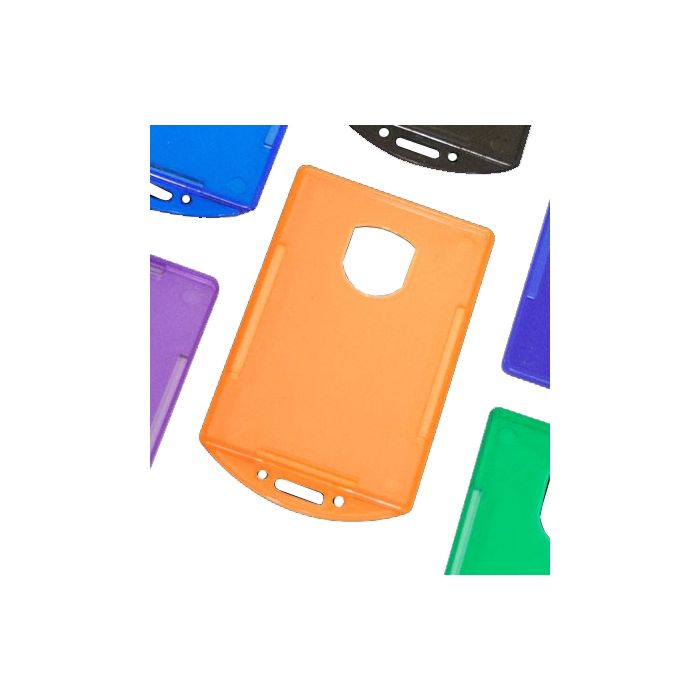 Colour Coded ID Card Holders Now Available
These colour card holders are commonly used by corporate companies, security companies, police stations, and hospitals. However, they're also used at charity events, concerts, school events, and much more. Having your employees and staff use these rigid face card holders can also save you from spending needless money. If you don't provide a secure place for your employees to keep their regulation employee cards, a large portion of them will end up lost or ruined. You will have to be continuously replacing employee IDs and security passes. So, if you provide them with a rigid closed face card holder, the amount of money you spend on replacement cards will be drastically reduced.
Our colour rigid face holders are extremely durable, and very professional looking. They provide a safe place for your employees to visibly carry their mandatory work ID's, while adding a bit of style to your business. These card holders can hold any ID or card that's the size of an ordinary credit card, and they can be hooked up to virtually any style of lanyard with the proper fitting. The rigid face holders can be completely closed for guaranteed security, and they can be easily opened when it's time for your employees to take their cards out.
Tough ID Card Holders For Your Next Event
Although these colour ID holders are commonly used with lanyards, they also provide an alternative option to soft card holders for people that carry them in their pocket or purse. You don't have to worry about your card getting bent or broken if you have a habit of keeping it in your back pocket. You will never have to worry about your ID card or badge bending when you sit down, or getting crushed if you throw it in your purse.
Creative Colours Available With Fast Turnaround Times
These particular colour coded card holders come in slightly transparent colours that include green, red, blue, yellow, orange, and black. They have a standard size of 88mm x 54 mm, which is about the same size as a credit card. Although the colours that the plastic ID holders come in are slightly transparent in colour, we carry solid colours as well. All of our products are made with quality materials to ensure a durable, long lasting product that you can count on.Please note: If you order colours that are not in stock, we can have them rush delivered within 3 business days. However,if you choose a colour that we do have in stock, your order can be delivered to you within 1 business day.
Customer satisfaction is our number one priority. We want to make sure our customers are 100% satisfied with our products, services, and our prices. We also have a team of highly qualified designers that will present you with a virtual sample of your plastic ID holders in a PDF or JPG file before your order is shipped out. If you're not happy with the initial design, you can have it changed before production starts. We want you to be completely satisfied with your order when it arrives at your door.
Would you like to order some of our rigid closed face holders, but aren't sure which ones would be right for your company? Don't worry. You can call our customer service team and they can connect you with someone who will help you with your order. If you already have an idea of what you would like your order to look like, you can request a quote online. Once you have requested a quote, an e-mail will be sent to you with a quote of how much your order will cost within minutes!
Sizes:
To fit 88 x 54mm insert (standard credit card / id size)
Colours Available:
Red, Green, Blue, Orange, Yellow, Black
Colours are slightly transparent. Solid colours available.