In Stock Lanyards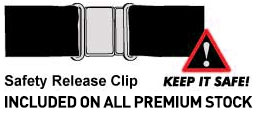 Minimum order: 10 units
In some cases, unprinted lanyards are a better purchase than printed lanyards. Although printed lanyards are great promotional items, it doesn't make sense to purchase something, or pay extra for something you don't really need. Plain color lanyards are great for concerts, conferences, parties, and events that aren't going to be a year round function.
Details
Extremely affordable, extremely practical
Some staff workers, companies, event halls, etc. rotate between different people, companies, or event causes that they are working for, or helping to promote. So it wouldn't make much sense for places or companies like these to have custom printed lanyards. They would have to have new ones made every time the brand, people, or event changes, and it would end up costing more than it's worth. However, staff workers and employees will still need a proper place to carry their IDS, badges, passes, or keys. That's why plain color lanyards are the best way to go for people and places like these.
Multiple colors in stock for immediate dispatch
Due to the general look and vibrant colors of these plain color lanyards, they are also ideal to put in party favor bags at parties. A lanyard with a phone holder or whistle attached to the end of it will make great party favors for kids. If you're hosting an event with a large number of children, you can hand them out to the kids and tell them to blow the whistle if they are lost or in danger. These plain color lanyards are also great for people that need lanyards for their staff in a hurry. They don't need to be printed, customized, or tailored to fit a certain company or brand, so they are able to be shipped out much sooner.
Although these are our stock lanyards, you can be sure you are still getting a product that is made with quality. They are durable and come equipped with safety fittings. The safety fittings that comes with these plain color lanyards allow you to use these at high risk work sites, and situations. They allow you to quickly release the lanyard from around your neck to help prevent strangulation, or getting them caught in machinery. There are over 15 standard in stock material colors for you to choose from so you are sure to find something that will fit the color scheme of your event, business or party, etc.
In addition to the many vibrant colors that we offer, we also carry a wide range of fittings for our plain color lanyards. We carry traditional style fittings, as well as fittings that are slightly more unique. Some of the more traditional fittings include the dog clip, the crocodile clip, the split ring, the trigger clip, and more. However, some of the more unique fittings we offer include the whistle fitting, the phone/camera holder fitting, safety release clip fittings, the ski pass holder, and more.
We always want to make sure our customers are 100 percent satisfied because without you, there would be no us. That is why we make sure you are getting the lowest possible prices around when you purchase your order of plain color lanyards from us. We offer all of our customers a price beat guarantee, which means we will lower our prices to beat our competitors for you. In addition to our price beat guarantee, we also have a team of highly qualified designers that will create a virtual sample of your order before it is shipped out. We also offer rush delivery services for people that are pressed for time, and need unprinted lanyards in a hurry. (Conditions may apply, and stock lanyards are usually shipped out quickly in general.)