Earth Friendly, Recycled & Eco Lanyards Canada
With the state of the world today, many businesses are trying to do more for the environment and reduce their carbon footprint. Most environmentally friendly companies try to find an eco-friendly alternative for almost every purchase they make. There is an environmentally safe version of almost every product you need these days, and lanyards are no different. We offer a variety of eco-friendly lanyard options, with bamboo fibre and recycled PET being among our most popular! Contact us today and we'll help you choose lanyards that accurately represent your business, while helping the world around you.
Read More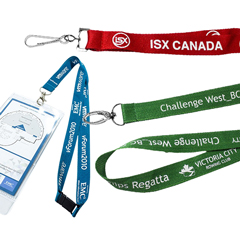 Browse All Products
Description

Why Purchase Eco Lanyards?

Companies purchase lanyards for a variety of different reasons. There are a lot of employees that need to carry a company ID or clearance card to enter certain areas of the building. A lanyard is an excellent way for them to keep it easily accessible at all times. If your company is going to be attending a trade show or similar event, a lanyard is a great accessory to give out to potential customers as a promotional gift. These lanyards can be branded with a company name or logo. Every time one of your eco-friendly lanyards are used, it will give your company exposure. It's also more professional to have company accessories branded.

Different Types of Eco-Friendly Fibres

Choices are sometimes limited when you decide to go the eco-friendly route, and that can become frustrating. We offer a variety of different eco-friendly lanyards so our customers don't feel like they are stuck with one choice. There are four options for you to choose from and they're all reliable, as well as eco-friendly. The four choices that we offer include plant silk, recycled plastic bottles, milk protein fibre, and bamboo fibre. Before you can choose which lanyards will be right for your business, you will probably want to know more about the options you have.

Plant Silk – There are certain fibres inside plants that can be woven into a silk-like material. Plant silk material is incredibly sturdy and will hold up well over a long period of time. Colours take to this material very well. Plant silk will support vibrant colours that are long lasting. The company name or logo will stand out on plant silk as well.

Recycled PET – Along with a variety of other eco-friendly uses, plastic bottles can be recycled and used to create lanyards. The bottles are melted down into a long, thin fibre that's woven to create the materials that these lanyards are made from. The recycled plastic materials can then be dyed and customized as needed. These lanyards are also very durable and long lasting. The colours come out vibrant as well.

Milk Protein – Milk protein fibre, also known as casein fibre, is created by evaporating all the liquid from milk, and spinning the remaining pulp into a usable thread. Believe it or not, lanyards that are made with milk protein fibre are incredibly sturdy and resilient. These lanyards will provide you with an eco-friendly alternative that is durable, and can be customized with a name or logo.

Bamboo – Bamboo is often considered one of the most popular eco-friendly fibres. Bamboo can grow very quickly, and can be replenished faster than an entire forest of trees. It can be easily reduced to fibres, which are then spun and woven to create strong, long lasting lanyards. They can also be dyed to create vibrant colours that compliment your business.

We're Here to Help

Most companies that need lanyards for their employees will also need some type of ID accessories. If you also need to order card holders or other accessories, you should speak with one of our customer service representatives. They will be to answer any questions you may have about eco-friendly fibres or lanyard accessories. If you're having a hard time coming up with a design for your business, we can even help you create a lanyard that compliments your company. We will provide you with a virtual sample of your order before it goes into production. If you're not happy with the design, you can simply change it.

Although our products are made with quality materials, our cost isn't high. We always provide the best possible prices for our customers. We also offer a rush delivery service, but it's important to keep in mind that conditions may apply. Your customization options will be limited, and additional fees may be required.