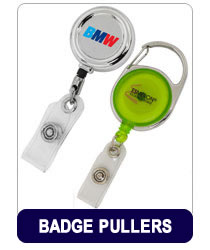 ​Nowadays, organizations prefer to provide unique badges as their employee identity and this permits them to access their office area as well. For some organizations, badges are the tool that can be applied to operate their in and out mechanism. No matter what the purpose it is used for, an appropriate badge holder can offer you the flexibility and convenience to utilize their badge properly.
A secure way of accessing
The badge is one of those things that are used on a regular basis and even more than a few times in a day. So, this should be easily accessible and must be safe. By providing stretchable


badge holders to their employees, an organization can make the task of accessing for the employees simple enough. The item is designed such a way that it can be attached to any part of your clothing and it can be easily pulled out too. This offers the flexibility to use this as required and get to the back after the job is done. This convenient accessing process can also offer safety to the badge.
Clear visibility of identity
Throughout the working hours, while interacting with the customers and other individuals, there should be a clear visibility of the identity of the employees. For this, the badge should be well-placed as this can be noticed by the other persons. This is actually beneficial for the company image.
Get rid of the neck hangings


Actually, hanging the identity card around the neck has become an older concept and this may not be acceptable for a large number of employees. They always prefer to go with the contemporary and smart look that always goes with their corporate image. For these professionals, the badge reel is the best option that provides them a great flexibility of using their identity badge without facing the reason of irritation hanging around their neck. This neck hanging option can also be the reason of any injury and such risks are not associated with the retractable badge holder.
So, here are so many reasons that can highlight the importance of having a stretchable batch holder with you but now the question is from where you can get this. Custom Lanyards is the most popular source in Canada that can offer you these personalized ID accessories. They have the best quality items to offer you. If you like to provide your employees the full flexibility with their identity badge, this source has no other alternative.